Saturday Farmer's Market @ Sylvia Place - Off Lundy's Lane
Saturday Farmer's Market @ Sylvia Place - Off Lundy's Lane
June 24 @ 6:00 am
Niagara Falls Farmers Market
Open Year Round - Saturdays, 6 AM - 12 Noon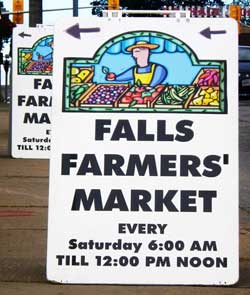 The Niagara Falls Farmers' Market has been part of the Niagara community for over 50 years!
Open year-round on Saturday mornings and is located at 5943 Sylvia Place, behind the Niagara Falls History Museum. The markets hosts up to 4 indoor vendors, as well as up to 15 vendors outside (weather dependent).
In 2010 a Farmers Market Committee was formed with the market vendors and city representatives to sustain the current market during the construction phase of the museum and the $5 million streetscape redevelopment in preparations for the spring 2012 Bicentennial Celebrations.
The expansion at the Farmers' Market is currently in the City's medium to long term planning. Become a friend of the Niagara Falls Farmers Market on Facebook to keep up to date with what's going on at the market.
Vendors
Looking to become a vendor at the Farmers Market? Our online application can be found here. If you wish to have a hard copy of the application, please contact the market coordinator. Contact details are on the bottom left side of this page.
Market Pictures
Visit our photo gallery to view pictures from the Niagara Falls's Farmers Market.
Contact Info
Clark Bernat
Recreation & Culture
905-356-7521 x5906